Dear Readers,
I wrote this lengthy autobiographical and deeply intimate piece on how I became a pro-Palestinian activist during the time that I was an activist a while ago. It is quite long and personal but I thought it needed to be shared. Opposers are welcome to criticize me for naivety but not for sincerity.
All my best,
Joshua Tartakovsky, November 12, 2014
(C) Text and pictures by Joshua Tartakovsky. All Rights Reserved 2014.
__
How I Changed from Being a former Israeli Soldier to Pro-Palestinian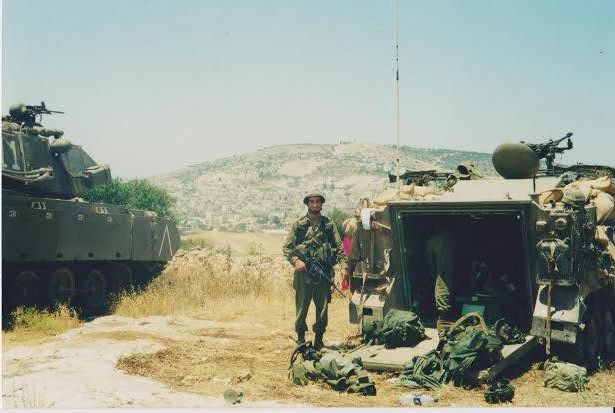 If anyone would have told me 20 years ago that in the future I would advocate for Palestinian rights I would have thought he or she is ridiculing me. Growing up in a fervent nationalist and religious home in Jerusalem, in which part of what was considered a proper education was taking us to demonstrations against any political settlement with the Palestinians, in support of settlements in the West Bank, and frequent visits to the Israeli settlements in the West Bank, I strongly believed in Israel's impeccability, high moral standing as well as in the hostile and murderous intentions of Palestinians. In fact, it was not that Israel was not right, but that it was not right wing enough. I believed that Israel was the land which belonged to the Jewish people only, that Palestinians were nomads who did not originate from the land, that they were an angry and restless mob of people who desired to kill Jews and that they could therefore be stopped by force only.
As I became a teenager and began to question the narrative with which I was brought up, I started to think that a two-state solution made more sense for the sake of peace. Division of land seemed a way to ensure both sides will be acquiesced and therefore a rational solution. Yet being an avid reader of the Israeli newspapers and taking its commentators at their word, I thought that Israel was ready for a compromise but Palestinians never were. I also believed the IDF was a moral army.
At age 15, while volunteering in an emergency room of a medical hospital in Jerusalem, I brought in a wounded person following a suicide bomber attack in Ben Yehuda Street. He died shortly after. This experience logically left a strong impression on me. I thought it was a clear sign that Islam commanded people to kill as many Jews as possible and that in the face of such irrationality the only form of defense was through the use of arms.
Although I had plans to leave for the US at age 18 – as I had a strong motivation to explore the world and receive a broad education- I felt I had a moral burden to join the Israeli army and stop suicide bombers from carrying out similar attacks. I believed that I could not escape my responsibility. Just as many soldiers risked their lives and died to protect me, now it was my time to do my part. In December 2000, I volunteered, although I was not obliged to, to serve in an infantry combat unit where engagement in confrontation was highly likely. The training was quite difficult and the sudden lack of freedom and time to read was quite painful but I learned to develop my physical powers to a degree I did not imagine possible through the power of will.
However, along with the training came the indoctrination. We were taught to obey our commanders blindly, were given a strong sense of purpose as defenders of our nation from terrorism and maintained a strong camaraderie with one another.
After going through basic and advanced training, I was sent by my commanders to become a combat medic and then sent to the Jordan Valley around October 2002. As a young soldier, I had no idea it was occupied illegally by Israel. We were given the impression it was half-way between the West Bank and Israel with its status unclear and without too many Arabs. Little did we realize at the time that it was occupied illegally and that the question of Israeli sovereignty in the area would become a central issue in Israeli-Palestinian talks a decade later, while all signs point to the possibility that the Jordan Valley would remain a stumbling block for any potential two-state solution.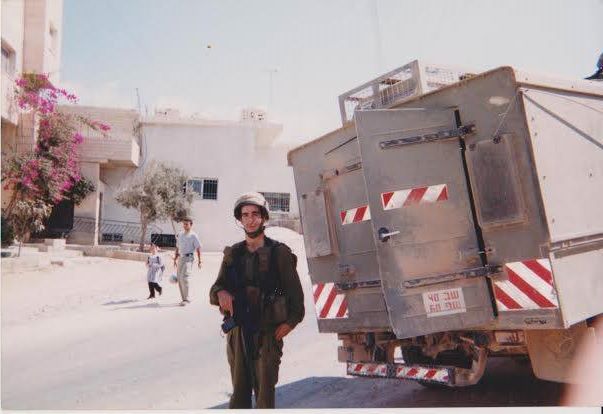 The six months of training we received prepared us for a conflict with a neighboring country's standing army or for arresting and stopping suicide bombers. We were never given an idea of what our actual duty would be. In one of the first days since we were stationed in the Valley, we were given a mission to enter an empty home in a Palestinian village. From the roof we could see children playing, mothers hanging their laundry and wandering sheep. There was no obvious physical danger to us. Yet we were standing on top of the roof of an empty house, our guns ready and loaded for any possible incident. "What are we doing here?" "This is a real occupation", I thought to myself first, then mustered the courage to whisper to a friend several hours later. He agreed, but we did not know what we could do about it. As soldiers we were trained and indoctrinated to follow orders. Being a soldier means giving up a large degree of personal choice, as well as the possibility to reflect independently on things. The lack of sleep and complete lack of freedom meant that one must listen to one's commander and do so with a perverse relief of having someone else make decisions for him.
Only later, did we realize that our predominant goal in the village was to make our presence felt and intimidate the villagers since a year earlier, someone in that area, though not necessarily from that village, fired on a private car on a settler's road, and murdered a nearby female resident of one of the settlements. Our goal in the following months was to tour the village and harass its residents as much as possible.
First, we had to man checkpoints at the entrance to the village, stopping every car that went in and out and checking the documents of its passengers. We could barely sleep and spent 8 hour shifts at the checkpoint while gaining 8 free hours immediately after in which we could eat, sleep or read. On various occasions, Palestinians who passed by us, who did not have permission to continue since they did not live in the village, were told by our commanders to return and go via a different route. I later understood that Palestinians who did not live in the Valley were not allowed to drive through it, and that we served as a mechanism to ensure the Valley is isolated from the West Bank.
We would enter the village at night, search homes and enter schools   while children were studying. Our goal was to show our 'presence' and therefore 'scare off' Palestinians from attacking Israelis. Our commander would go in with 3-4 soldiers, who would enter homes, search them, occasionally throw a sound grenade next to a family and point barrels directly at old men and women. We were not stopping terrorists but occupying a village and terrorizing its residents. I was quite uncomfortable doing all this. It was clear to me from the first day that this was wrong and illogical and that we were in fact occupying innocent people. Yet the group dynamics of a army unit are such that most soldiers tend to follow orders, both due to fear of being isolated by the rest of the soldiers with whom one naturally spends all his time, and due to the psychological tendency to trust and obey the commander in charge, a tendency reinforced by 6 months of intense training and a process of indoctrination. In addition, we were infused with heightened excitement of being brave soldiers who protected our nation from terrorism, with a strong sense of self-assuredness and an exaggerated sense of self-righteousness self-confidence reinforced by our top commanders.
We never found any weapons, but we continued to harass the families of the village, eventually taking over several vacant homes there and occupying them for days on end. Our commanders would instruct us to enter schools, search children's books for pictures of suicide bombers, enter private homes in the middle of the night and search them. We also waited at the other entrance of the village for people who tried to enter it by foot, who would then find us emerging from our hiding places and telling them to turn back. Yet, despite this senseless abuse, I still did not consider leaving the military. I naively believed that the day would come when we would actually stop terrorists and all would be worthwhile. I also was brainwashed to believe that the Israeli army was a very moral army and that our abuses were an exception to the rule.
In the following weeks and months, the situation intensified and deteriorated. We were given orders to patrol Palestinian cities by jeep at night with the hope of attracting Palestinian fire so that we could respond and kill the shooter. The gunman did fire at our jeep, and we disembarked and fired back. However, the gunman managed to escape. During Operation Resolute Path, we went on to occupy for a week several Palestinian cities. We once again occupied a large house, evicted the family and searched countless homes in the vain search for weapons and expecting gunmen to shoot at us at any given moment — an event which never took place. On a separate occasion, while occupying another village, I directed my gun at every place my eyes turned to, as I was instructed to do. The shock I felt when seeing how a child in a window looked at me in indescribable fright and then ducked her head in panic haunted me for months and years later.
In the coming months, we entered various Palestinian cities at night or during the day, based on particular intelligence we received, rounded up marked people in their homes and took them away handcuffed and with their eyes covered. We were told we were arresting terrorists and had little reason to think otherwise. The time was at the height of the Second Intifada, when various attacks, as the one I saw as a 15 year-old, were taking place. On once instance we occupied a Palestinian village for an entire night. In the wee hours of the morning, a man walked up to me in the street and handed himself over. I took him to my commanders. I later found out that he was the Palestinian policeman of the village, and that my commanders occupied his home earlier, threatened him to surrender himself on the phone and that a small handgun was found in his house. He was taken for interrogation and I do not know what happened to him eventually. It seemed quite odd to me at the time, however, that a Palestinian policeman would be considered a terrorist. While my military service as an occupying soldier of a peaceful village was a source of great shame and embarrassment, and while I realized the idiocy of stopping cars at the checkpoint when clearly they never had any guns, I still naively believed that we were stopping terrorists and that this made my service worthwhile. I was quite proud of surviving the harsh training I received, which in my mind, had to serve a purpose. If people would asked me what I thought about my military service, I would reply that most of it was nonsensical but that I was proud we stopped 'terrorists'.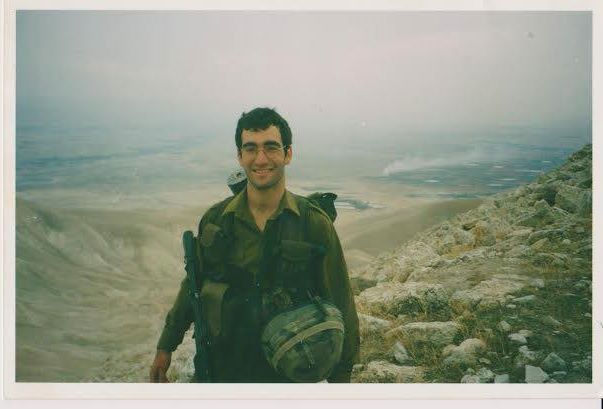 Following my discharge, all I wanted to do was leave Israel and see the world. I went to study at Brown University where I pursued a BA in international relations.  At the US, I ardently followed Israeli news  , having been implanted with a strong identity as a proud Israeli. Following military service one naturally tends in most cases, to take immense pride in being a soldier and an Israeli, as if the arduous training engraved this new identity under one's skin. While as an occupying soldier it was clear to me that the occupation was morally bankrupt, in the US, having encountered frequent criticism of Israel, I became quite defensive and more nationalistic. On campus, I met several vocal American Jewish progressive students who complained about the Israeli occupation in a self-righteous manner and viewed me critically, as if I was personally guilty of the situation. The preaching tone of students, who had never been to Israel/Palestine and came from comfortable backgrounds while I came from a very religious background and had to struggle to gain an education, did not win me over to their cause. On the contrary, I had little respect for those who I knew have never been through the training I had, and who probably never slept in a tent for more than a few days while I did so for 6 months. When meeting students from various Middle Eastern countries, I would proudly claim that I was from Israel. Usually, they'd overcome the initial hesitation and were friendly though we were wise enough to know not to discuss politics. However, I was quite uncomfortable with some of the pro-Palestinian activism that took place on my campus. I thought people there did not understand the reality in Israel and were against the only Jewish state in the world that was seeking to defend itself in a region where there were far greater atrocities taking place. Granted, I realized that abuses of power and an immoral occupation were taking place by my unit, but I believed that this was an exception to the rule and that the Israeli army as a whole did not act in such a way. Little did I know that in other areas the situation was much worse. Nonetheless, since I took the Israeli newspapers and commentators at their word and was not exposed to credible alternative analysis, I strongly believed in the Israeli army and state. Perhaps I had to make sense of why I had to give up 3 years of my life for a purpose.
While I stayed away from pro-Israel political activism on campus as I had other things on my mind and was seeking to understand the world around me, I did defend Israel in class when the issue came up. Anyone who knew me well from that time, knows I was fervently pro-Israel. In an international relations class on international legal bodies, I took on the yoke of protecting the separation barrier/ wall Israel built in the West Bank explaining that it was built to protect Israelis from suicide bombers. In my mind, the wall was located somewhere in the vast expanse between Israel and Palestine. I did not know yet that it tightly encircled Palestinian cities and cut people from their fields and water resources.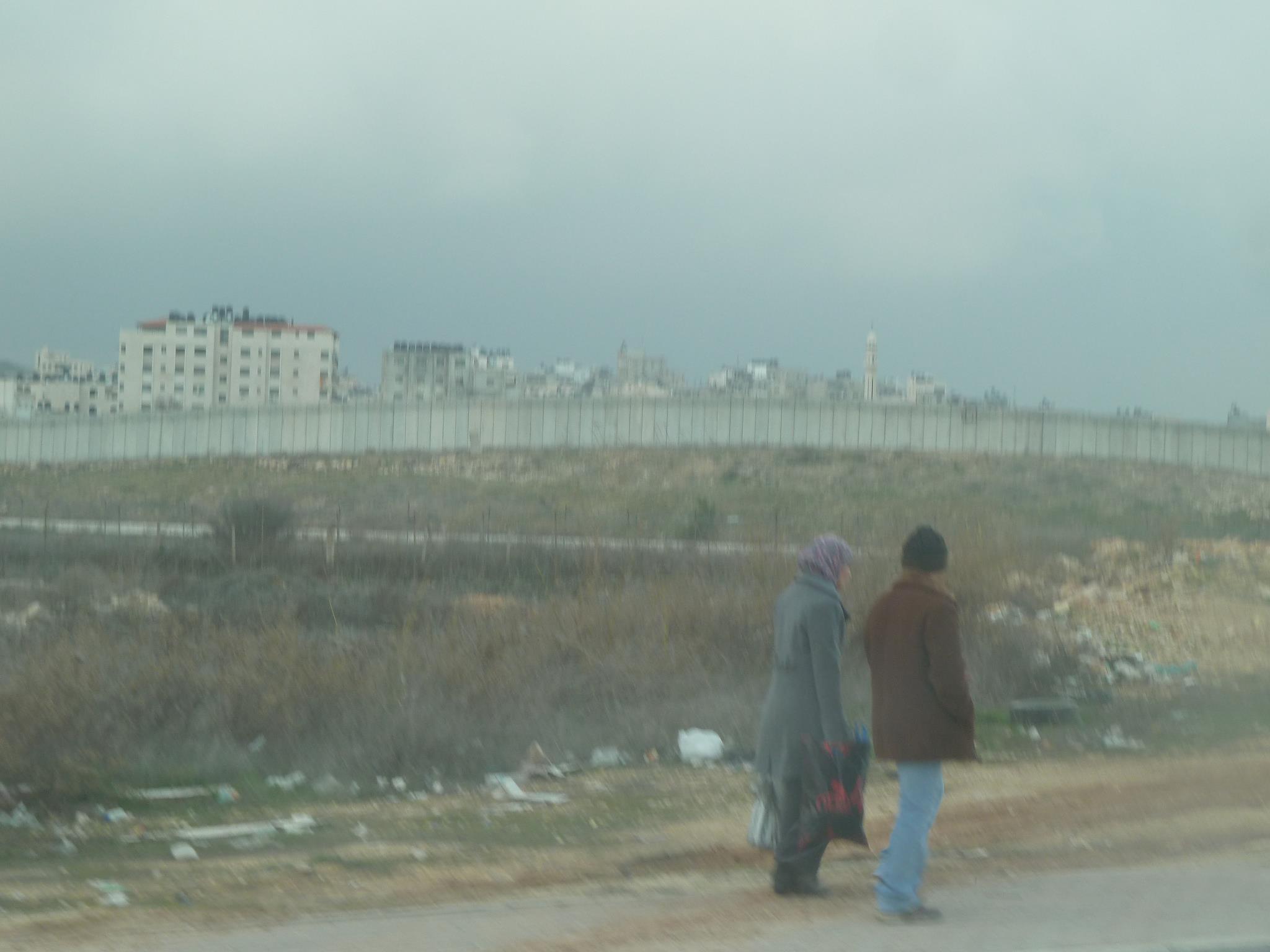 When pursuing internships in Europe, I was exceptionally sensitive to criticism regarding Israel. Hearing Europeans criticize Israel, in a continent where anti-Semitism has been prevalent for centuries and where the soil was soaked with Jewish blood, pushed me into a defensive mode immediately. I felt that they barely saw me as a Jewish person without experiencing some level of immediate hostility towards me and now they wanted to make me apologize for being Israeli. On the other hand, experiences on the ground began to shake my rigid stance. While studying in Oxford and London, I made very close friends from a Muslim country and later went on to attend a wedding there. My friends and I both came from traditional families, and we realized how much we had in common right away. These friendships grew and matured and over the following years, this coupled by the fact that I lived in immigrant and Muslim neighborhoods in Berlin and London, made me realize that in fact as a Jewish person, I have far more in common with people from the Middle East and other Muslim countries than with white Europeans. It was clear to me that Muslims were not inherently anti-Semitic, that culturally we are actually quite similar, and that we have much more in common than we realize.
Yet I still defended Israel strongly. In my view, Palestinians were one thing and Muslims at large were another. The more I was criticized for being pro-Israel, the more defensive I became. I was certain Israel was entirely being misunderstood and being vilified for a criminal it is not. All it was doing was seeking to protect itself. Palestinians were a brutal mass of people who only understood force and wanted to destroy Israel. This was my view nourished by decades of growing up in a right-wing environment as well as by following the Israeli media and believing its version of events. In this logic, while I interned in Bosnia and in Berlin for humanitarian causes, the Palestinian issue was the one issue which could not be fixed and which could only be dealt with by force due to the primitive mentality of Palestinians.
I did not realize to what degree this indoctrination had not been true until several events caught me by utter surprise. In 2008, I took friends from India and China who were my classmates at Brown to visit Israel. One day, along with an ultra-Orthodox friend, we took the car and drove to Silwan, a Palestinian impoverished neighborhood in East Jerusalem. At some point, as we drove down to the hill, our car got stuck and we could not make a u-turn as the streets were too narrow. I was a bit concerned. Here we were, stuck in a dangerous village in the middle of the night and I was concerned about our safety. Residents who heard us started coming out of their homes. I was calm but a bit worried. Residents started approaching us and explained how we can make a u-turn. They gave us directions and helped driving the car backward. This was a neighborhood that suffers from immense discrimination from Israel and where homes are being demolished on an almost daily basis. They saw my friend, a religious Jew, me, an Indian guy and a Chinese guy and they helped us. We even talked to them in Hebrew. We got out of there. A few minutes later we went to see the Wall separating East Jerusalem from the rest of the west Bank and took a few pictures. Moments later, as we kept walking along the wall, we ran into an Israeli Border Patrol. They started yelling at us to leave the area. For the first time, I felt what it was like being a Palestinian. They did not see me as an Israeli, for them I was a danger. I felt quite humiliated. They talked at us in such a nasty way as if we were non-human. Now, even when I was in the military, I was always nice to people. Friendly to the people I occupied. I was never rude. But most Israeli soldiers are usually not. This shook me, as I realized the kind of humiliation Palestinians go through, precisely the same friendly Palestinians who helped us out just a few moments later.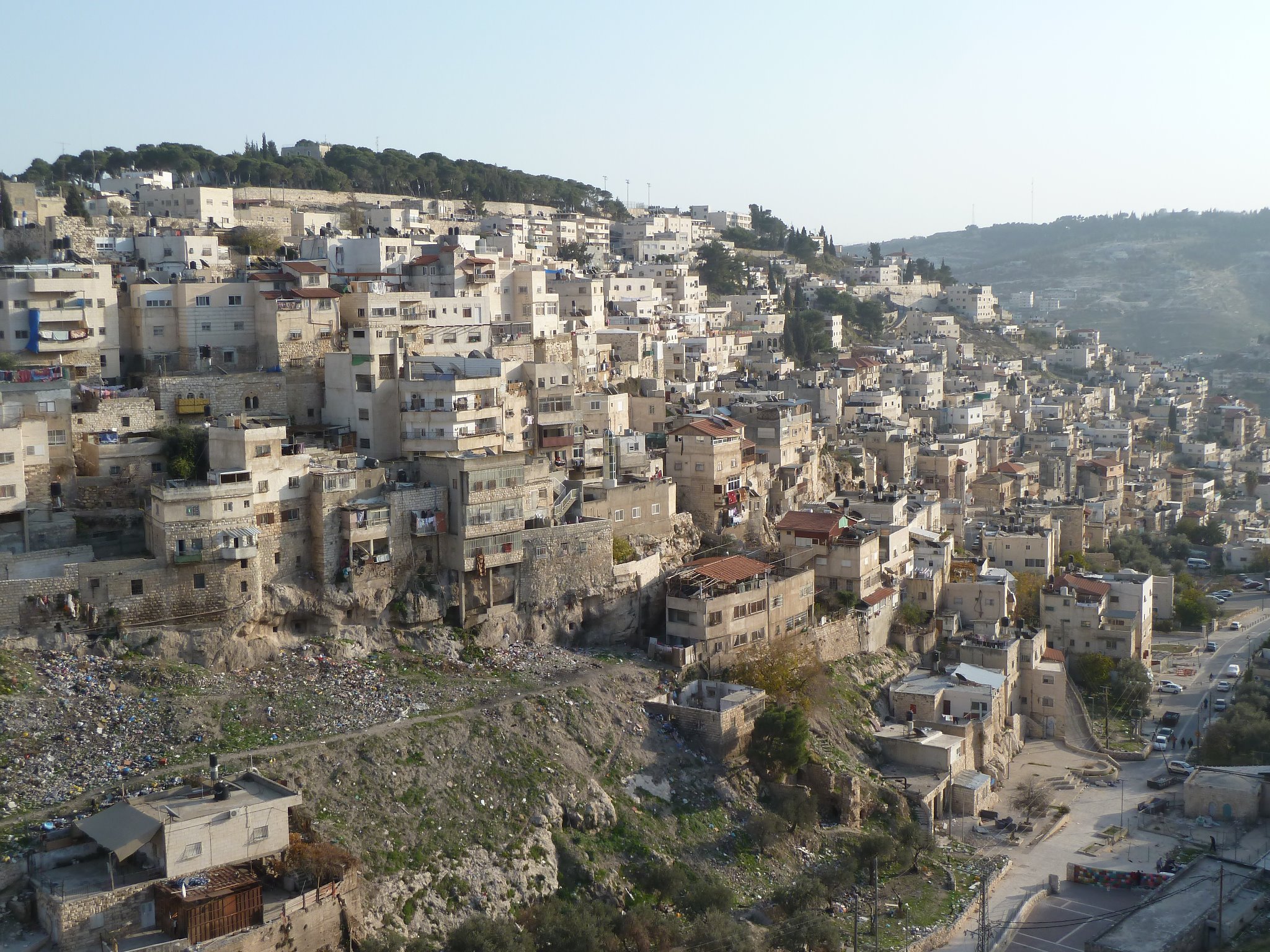 Following this period, and during various `internships in Europe, I would become even more defensive when people would criticize Israel. I identified with Israel to such a degree that an attack on Israel was experienced as an attack on myself. This sentiment is entrenched as the Israeli state has successfully formed a new subject: an Israeli Jewish citizen who identifies with his country, is proud of its achievements and considers its achievements its own, is willing to fight and die for his country and is rooted in a country where he finally has a home, in a place where memories of forefathers from thousands of years ago are still lingering in the air.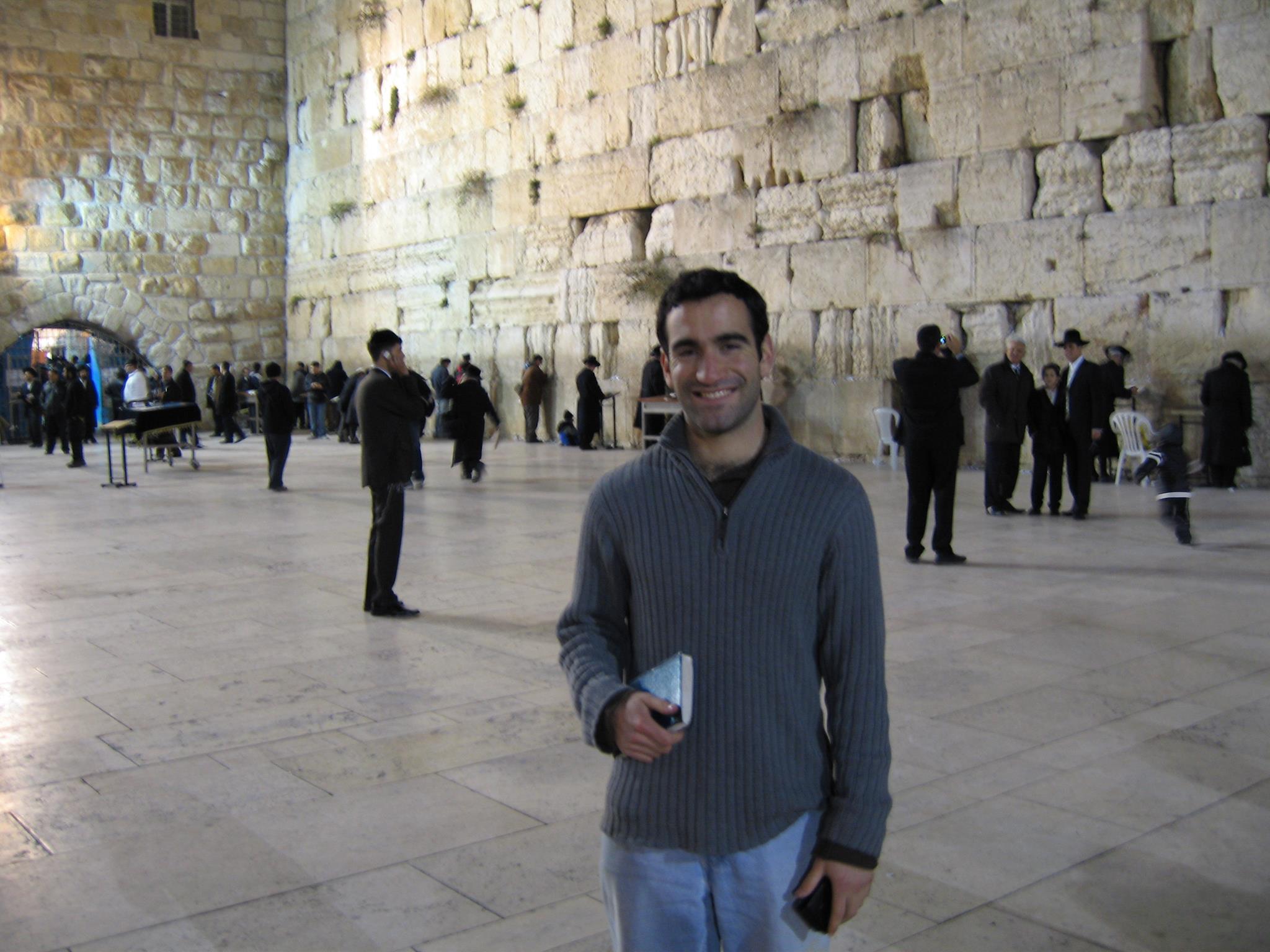 When I interned in Bosnia-Herzegovina in 2006, I was quite curious about the country. Here were three ethnic groups, the Bosnian Muslims, Orthodox Serbs and Catholic Croats living in the same country only years after brutal fighting between the three ethnic groups. I realized over time that all people there were equally human, and that working for an international organization there I wanted what was the best for all. So, if this is the case, I thought, if I could easily cross from Republic Srpska into Bosnia, is it not absurd that in Jerusalem, my own city where I grew up, I could not walk freely into Silwan? How could I advocate on behalf of humanity in the former Yugoslavia but be anti-Palestinian in Palestine? Still, I believed that Palestinians were still a unique exception. They were hateful for no reason, their primitive culture meant that they simply wanted to see more blood spilled and a reasonable compromise could never be reached with them. In my mind at the time, while humanity around the world at large was worthy of my compassion, Palestinians were the exception due to their own actions and state of mind.
In 2008, right during the early weeks of the war in Gaza, I visited Israel. The Israeli media was claiming that Sederot was under attack by Hamas missiles and that this could no longer continue. I agreed completely. Which other country would tolerate missiles being rained on its citizens? Does Israel not have a right to defend itself after seven years of being hit by missiles while withholding itself from responding? I believed Israel must attack Hamas and attack it with a final blow. I was staying with family and watching Israeli television and could not help but experience too the overwhelming collective national frenzy of self-assertion and indignant self-righteousness that swept over us all. A few days later I was back in London to continue my master's degree. The numbers of the dead began to rise. What was tens of people started becoming hundreds. Many children were killed. All this time, I was being confronted by European friends at LSE: 'Look, we know Israel has a right to defend itself, but isn't it over-reacting? Look, at how many people they are killing'? 'No', I told them. 'Israel has to destroy Hamas. They are a fanatical organization composed of mad people who launch missiles on civilians. Israel does not target civilians, it is Hamas who hides behind civilians and this explains the high number of casualties.' I kept sticking by my story for a few more weeks. Yet as the number rose and rose, and the number of the dead reached 1300, something died in me. Ok, even if Israel is right, I thought. Is the price not too high? For Israel to survive must thousands of people be killed? What is the price of having a Jewish state in the Middle East? The constant bloodshed of lives? Are all lives not equal? Human life comes first, and Israel must find a way to negotiate with Hamas rather than firing missiles on the people of Gaza. However, I still maintained that Israel was a moral country and did not realize the degree of Israel's brutal occupation.
Following my master's degree, I needed a break from years of study and went to Latin America on a backpacking trip. I landed in Brazil and fell in love with the country and culture. I went on to volunteer in a favela in Rio de Janeiro. Favelas are basically slums located on mountaintops above the city and within it, where the poor reside. In a conversation I had with an Israeli friend months before, he told me that these slums are 'hornet's nests', filled with drug gangs and that they need to be 'cleaned up.' I decided to see these places for myself. Walking in every day to the favela, I encountered young children carrying AK-47s , waiting for the police to raid the favela. They did not stop me from entering and on one occasion when they did, I told them I teach there so they let me go. Visiting the favela every day has changed my perspective radically. I met the most amazing and adorable children I could possibly imagine, who suffered from extreme poverty and were stuck in an harsh environment that was beyond their control. The favela was not a hornet's nest but a community of hard-working and kind people. This experience made me wonder whether there was more to my earlier preconceptions of Palestinians. If in the favelas, I thought, I encountered kind people despite the negative way they are portrayed by the media, was it not also possible that in the Occupied Territories an entire population is being stigmatized because of the existence of terrorist groups who do not represent the majority?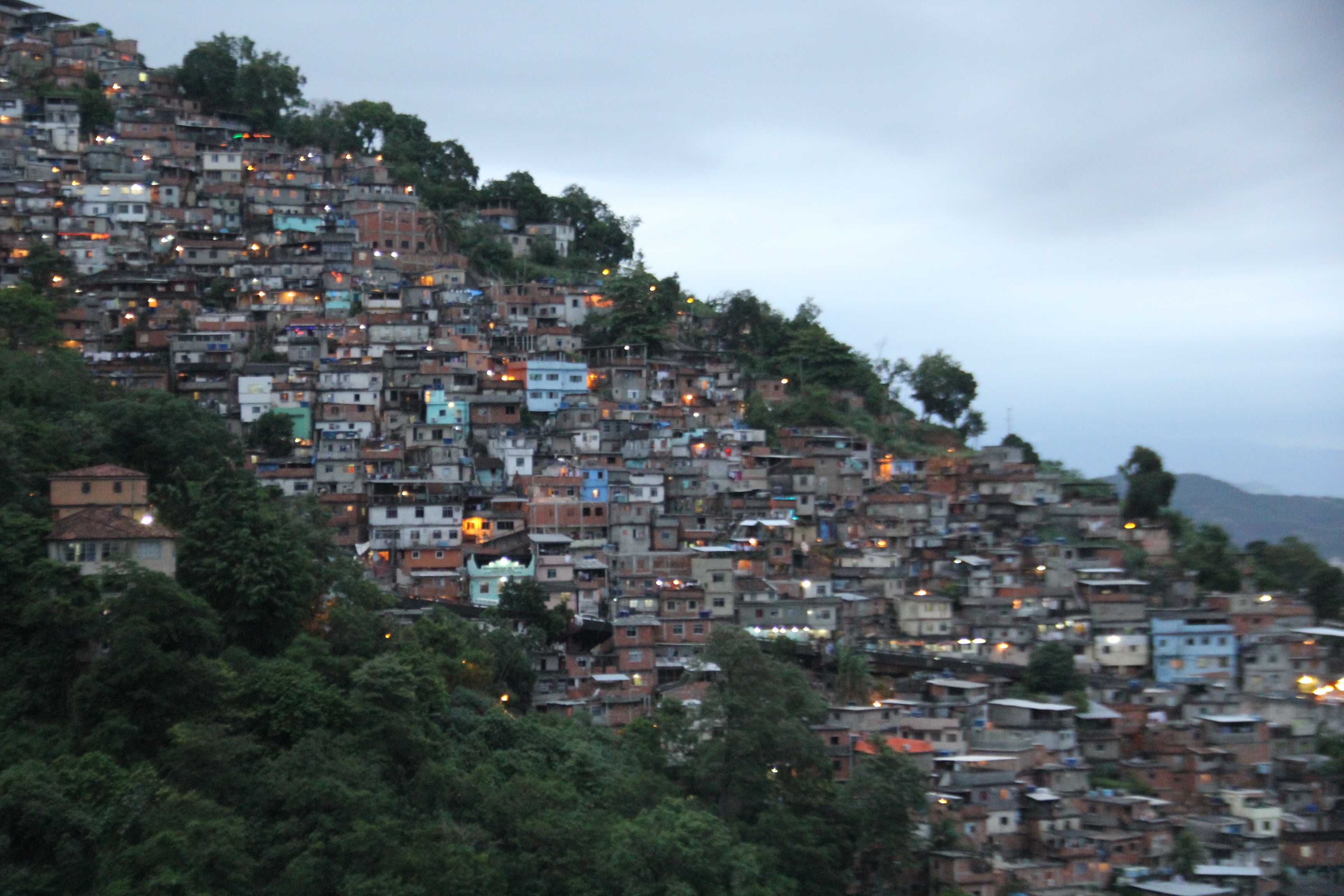 A favela in Rio.
In 2011, I went to visit Israel for 2 weeks. In the course of my visit, I decided to do the unusual, and take a bus to the Palestinian city of Ramallah in order to visit a classmate there. Sitting on the bus quite tensely, I was worried as we were driving into the city, with memories of a recent lynching Ramallah residents had carried out against two Israeli soldiers fresh on my mind. We drove in through the Qalandiya checkpoint slowly, while I was afraid that Israeli soldiers may walk onto the bus and ask for our identification papers, but within several minuets I was inside Ramallah.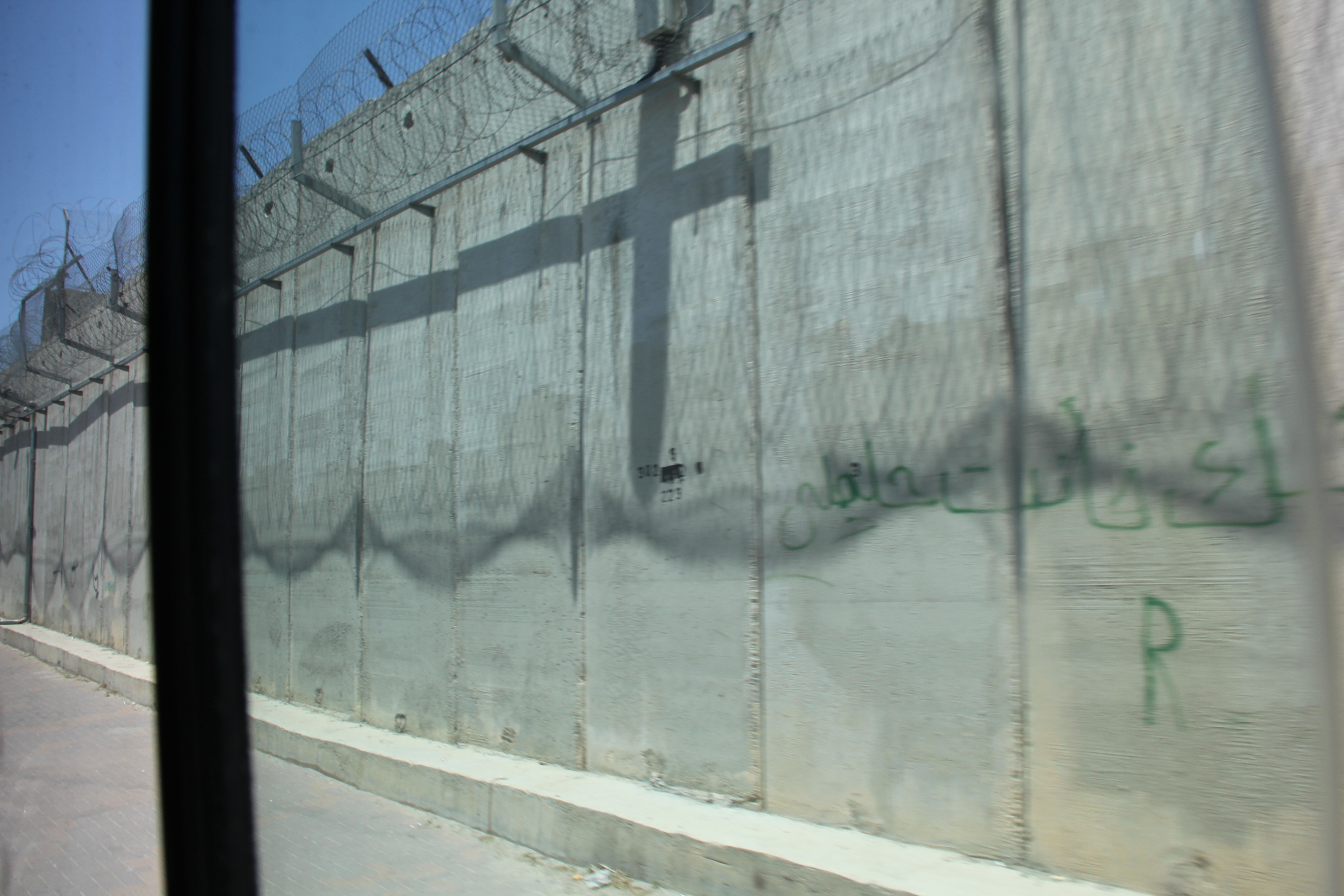 My friend took us on a tour. First we saw the Wall circling Ramallah, which in all my years of living in Israel I never saw. I always believed that the Wall was somewhere in the vast expanse between Israeli settlements and the Palestinian cities but I did not realize it encircled Palestinian cities quite tightly. Secondly, I experienced Palestinian culture. We walked around beautiful Palestinian homes, which reminded me much of my own neighborhood where I grew up. In the most paradoxical and unexpected way, Ramallah was exceptionally peaceful. It had lovely cafes and trees by the sidewalk. Beautiful architecture and large homes made of stone. The streets had signs of fashionable women wearing stylish clothes which would be viewed as permissive and provocative in the highly-religious Jerusalem areas, with which I was all too familiar. Alcohol was sold in various stores. Restaurants offered delicious food and of course we could not skip on the Rukab's famous ice-cream which, my friend claimed, is the best in Palestine. I was received warmly by many people even though some of them could tell I was Israeli.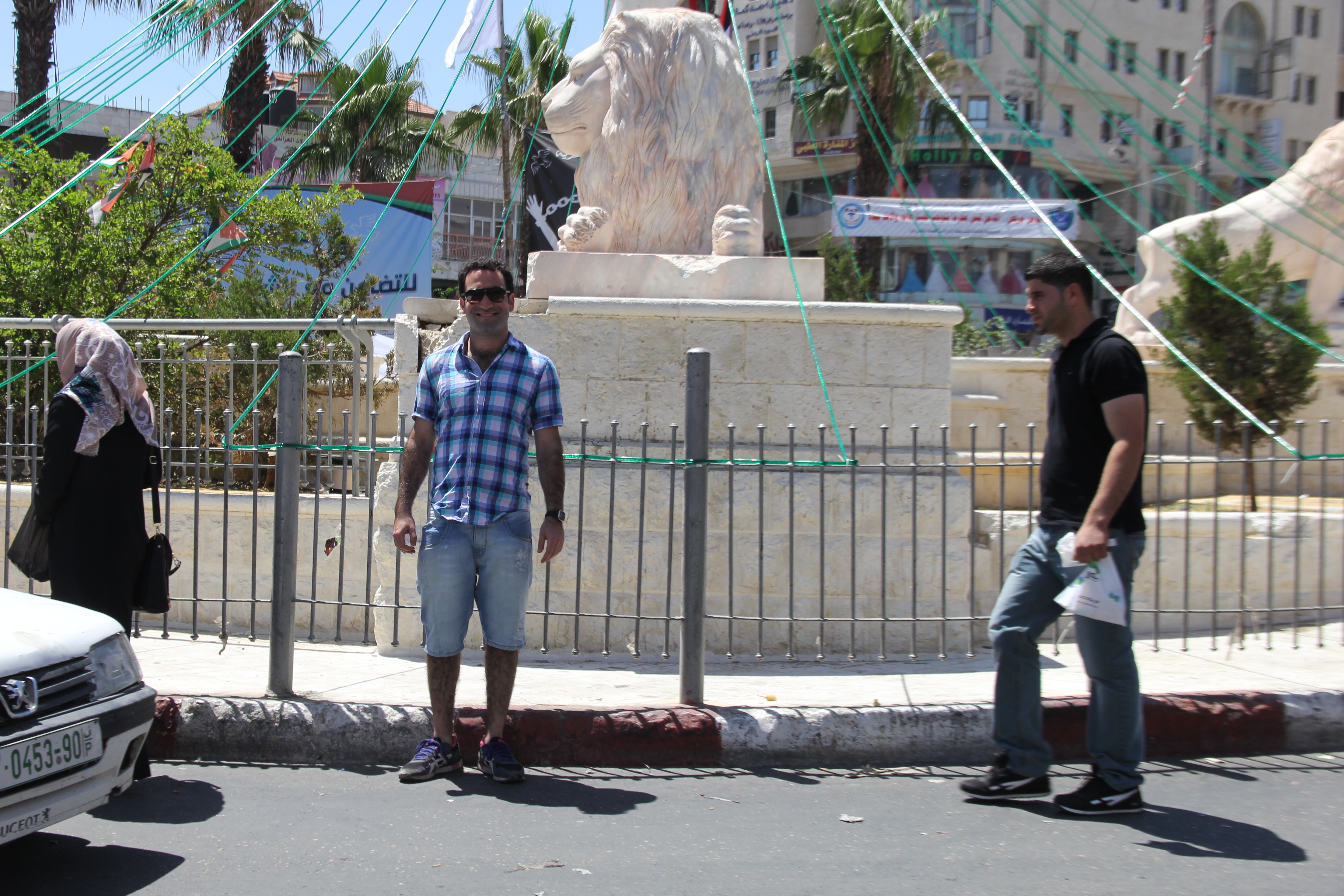 Something in what I saw did not make sense. Here in Ramallah, people were living normal lives, people who were in fact more secular than I expected, though of course there were plenty of religious people as well, and yet they were under occupation, while it is clear from the architecture and ancient buildings that they were here before the Zionists arrived in Palestine. Why then, are they not citizens of Israel? Why are they living in a separate and enclosed area? After all, it is clear that they have such a rich culture from which Israeli cuisine took its most famous delicacies such as falafel, hummus and schawarmeh as their own. Why must this occupation go on?
Is the reason Palestinians are kept under occupation because they do not recognize Israel? Plenty of taxi drivers in Ramallah told me they wanted Israelis to come and see them on the other side of the Wall, since they themselves are often barred from visiting Israel, and that they harbor no sinister intentions but want peace and justice for all. Is the reason they are under occupation because of several terrorist groups? Well, the ultra-Orthodox community in Jerusalem also has its vandals and the Secular community has its share of lunatics, but does this mean an entire group must be confined to a tight area behind a wall? The reason is must be that Israel does not want the Palestinians there since plenty of them are secular, well-educated and easy-going. Visiting various bars and clubs in Ramallah later on convinced me of that much. Yet this was the country of the Palestinians. What right does Israel have to continue the dispossession of Palestinians it began in 1948 to ensure it has a Jewish majority in Israel, in order to achieve what it sees as a just solution of a Jewish state with a Jewish majority, while taking land from others and expelling them from their homes in order to achieve its goal?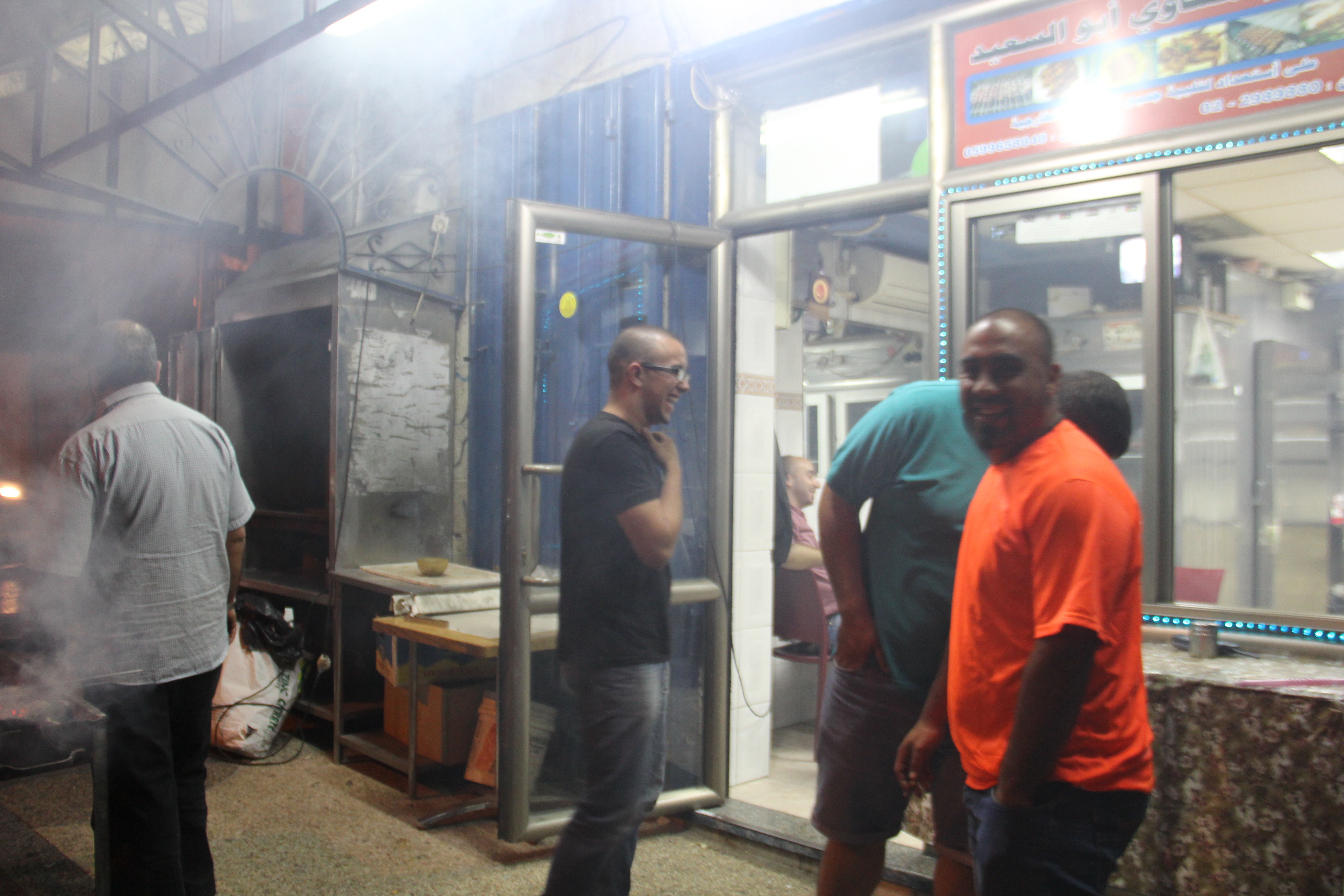 At the end of the day, we headed home, and arrived again at the Qalandiya crossing. This time I was shaken to the core. Tall light towers were shining a blinding light on the entire empty area below, making one feel exposed and vulnerable. Shouts in Arabic from loud speakers above were directed at people who were instructed not to congregate and to keep moving. The Wall stood in its immensity surrounding us entirely. This feeling was surreal, I was shocked deeply. What could I tell my friend, a Palestinian student from my university, where we both were treated fairly and accepted in the US while here, she is subjected daily to a systemic terrorizing campaign, just because she is Palestinian? Furthermore, how can people try to terrorize this civilian population? Never in my wildest dreams did I imagine that the Israeli army that I glorified treated ordinary people in this way.
In the following years, I took a lot of time to reflect on what I saw and what I experienced. In a single day visit to Ramallah, I understood what I did not understand in seven years. That Palestine existed before Israel. That Palestinians are imperfect people like everyone else but are also exceptionally hospitable and peaceful. That Israel as a state is exceptionally paranoid and views all Palestinians as terrorists, while cowardly locking them away behind the Wall. I decided then, to see more for myself and visit various Palestinian cities while also attending various Palestinian demonstrations against the occupation in which Israelis join Palestinians. Since I was a soldier on the ground, it was important for me to experience the reality in the most physical manner.
The first demonstration I went to was at Nabi Saleh. This village had its water well confiscated by the nearby Israeli colony of Halamish (where I spent the Jewish Sabbath several years earlier). I had watched a video about the incredible brutality with which Israel handled protesters there including female protesters and I wanted to see things with my own eyes. I still believed in the Israeli army's morality and thought they would not dare attack peaceful Palestinian protesters. After gathering in the center of the village where children, teenagers, adults and internationals began chanting and marching towards the water well, Israeli soldiers were waiting for us with their jeeps and skunk cannons. As soon as they caught sight of us, they immediately began firing tear gas canisters on us even though a single stone had not been thrown at them yet. I could not contain my rage.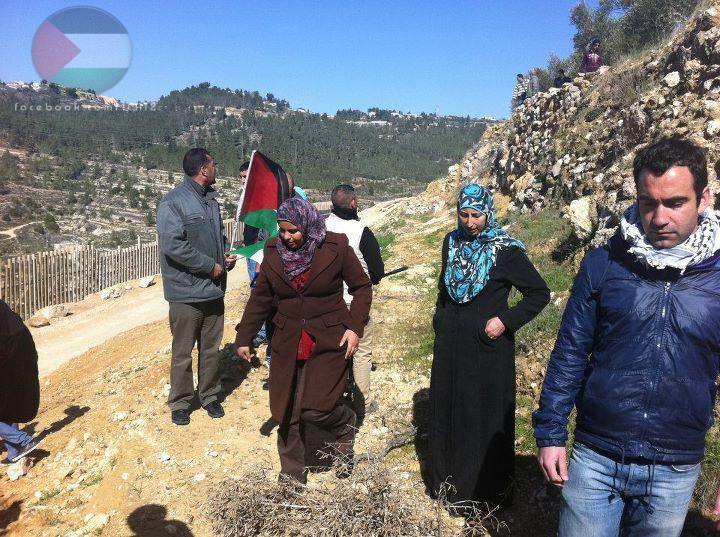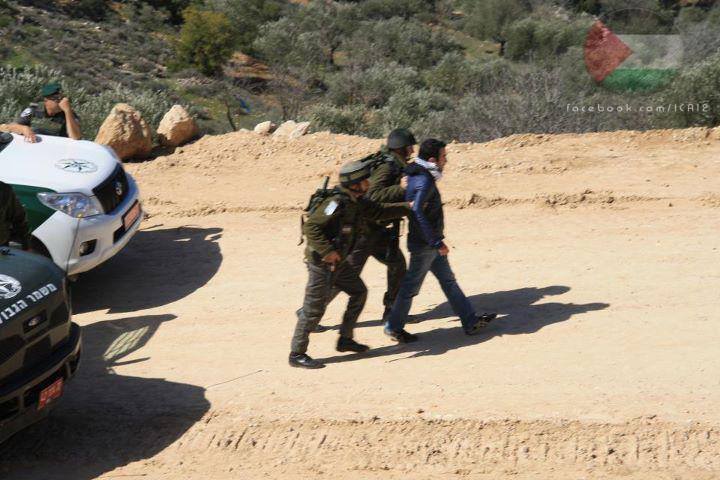 (A Protest in al-Walajah, near Bethlehem).
In another protest I went to, in the village of al Walajah, Shireen al Araj  from the village of Wallajah which has been entirely surrounded by the Wall, had led a massive effort to bring awareness to the issue. The hostility with which Israeli soldiers treat Palestinian women, suggests that the problem is not merely an abuse of power but is part of an ideology. The Zionist ideology holds that Jews must be strong and defend themselves against all threats and that issues can be solved by force, not by compromise. Since the right of an Israeli for protection overrides everything else, and since Zionism is naturally in need of an enemy so it can assert its strength, it naturally seeks to create more enemies and sees all Palestinians as its enemy.
In the following years I attempted to spread awareness about the Israeli occupation. Where does this leave me? First, as an Israeli-American-Jewish person who was an occupying soldier, I now have excellent Palestinian friends from various backgrounds, therefore revealing the fact that the issue is not co-existence between Jews and Muslims, but rather a state discriminates on the basis of religion. Secondly, since history has shown that the price of creating a Jewish state in Palestine is the displacement and oppression of another people, this can hardly be a moral solution nor a Jewish one, and certainly not one which should be the lesson of the Holocaust. Rather than having a state which spends a huge amount of its GDP on defense, sends its youth to occupy another people and attempts to minimize the number of non-Jews in Israel and the Occupied Territories so it can have a Jewish majority, a far more reasonable option would be developing a society where justice is restored and where people do not suffer discrimination based on religion, therefore providing true peace and justice and allowing Israeli Jews to finally live without fear of being attacked. One may argue that Jews and Arabs cannot live peacefully together but Jaffa, Haifa, Jerusalem are all bi-national cities where most people manage to get along well.
It took me years to have the courage to finally visit the Occupied West Bank and see the reality there. This would have not been possible without years I spent thinking and reflecting on the subject and overcoming my own conditioning. I realized that Palestinians are people too, just as any other region, and that I would be a hypocrite trying to work on global problems while neglecting to discuss the illegal and brutal Israeli occupation that has been going on for the past 45 years with no end in sight. The years I spent abroad gave me the critical space necessary for reflection and calm judgment and have opened my eyes to the sad reality in my own country. Indeed, human rights cannot be advocated everywhere around the world and not in Palestine. Furthermore, the Jordan Valley that I once occupied has been facing over the past few years, an onslaught of Israeli army regulations. Water resources and trucks are frequently being confiscated by the Israeli army, Palestinian homes are being demolished and young teachers and activists are being arrested and held in confinement all with the goal of breaking the will of the residents there so that they will leave. I now understand that this process, of gradual harassment to ensure life becomes unbearable for the occupied, is one I contributed to and took part in as an occupying soldier. Finally, an optimistic story: several months ago I visited the same village I once helped occupy. The people of the village were surprised to see an Israeli car enter their village and wondered if I was lost. I stopped over at a small shop and told them I was actually had been an occupying soldier there 10 years earlier. They were amused I came by and offered me to sit with them, offering me food and drink; we engaged in a long talk, and I finally left after they asked me to return and visit in the future. If a former soldier can meet people he once helped occupy and have a friendly conversation with them in their village while he admits his own wrongdoings and they manage to overcome their grudges and hard feelings, then surely there is room for optimism for the people of Israel-Palestine.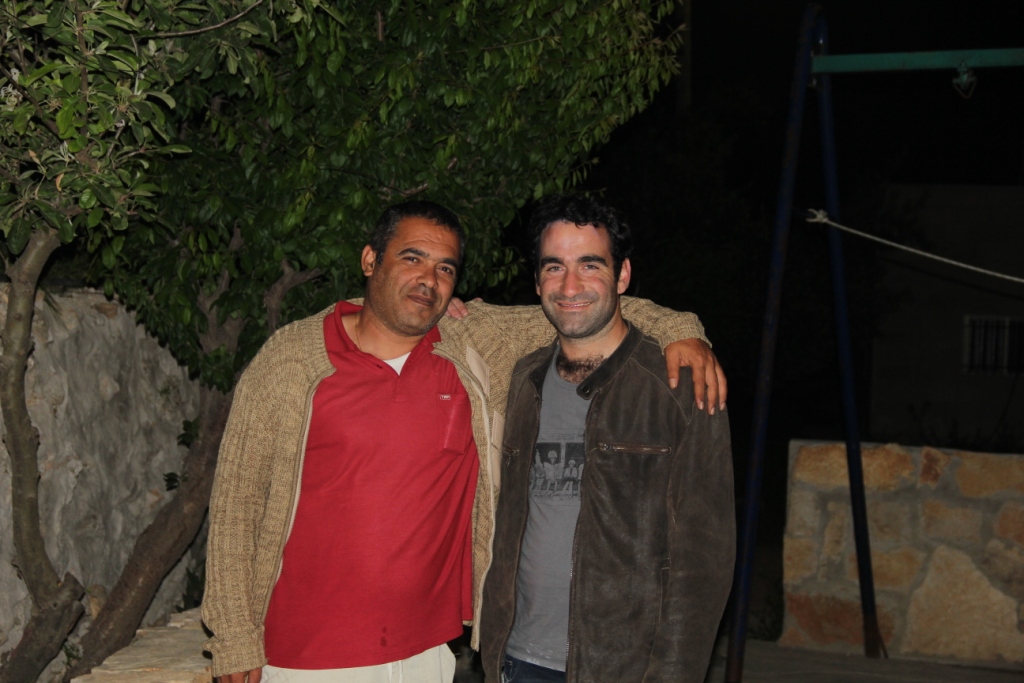 With my good friend, human rights defender Younes Arar of Beit Umar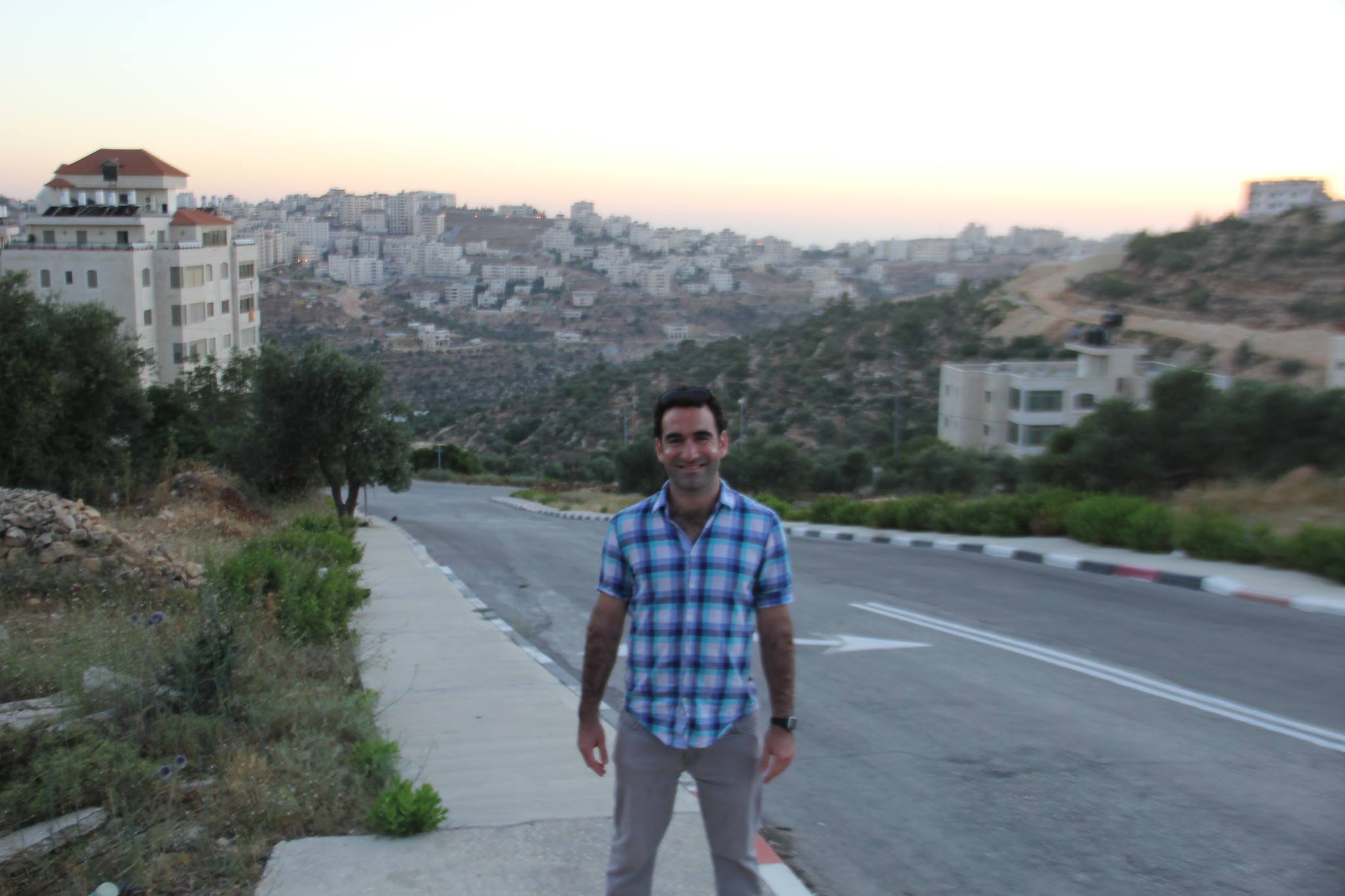 Ramallah