Last night, Thursday, Feburary 5, 2015, 6,000 Athenians gathered in front of the Hellenic Parliament in a shot of support for the new Greek government as Finance Minister, Yanis Varoufakis, met with his German counterpart Wolfgang Schäuble that day.
What started off as a Facebook event, managed to gather an impressive rate of attendance. The first call for people to gather was posted at 1.49 am the night before.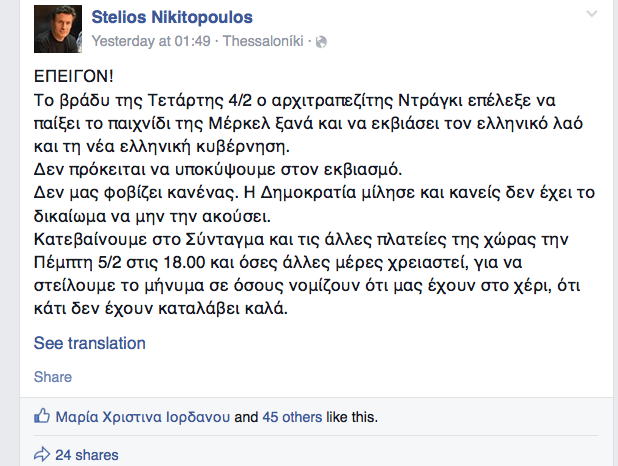 The text reads (Bing translated)
"URGENT!
Wednesday night 4/2 [European Central Bank President] Draghi chose to play the game of Merkel again and to blackmail the Greek people and the new Greek Government.
I'm not going to succumb to blackmail.
We are not afraid of none. The Republic spoke and nobody has the right not to listen.
We descend to the Constitution and the other squares in the country on Thursday 5/2 at 18.00 and as many other days you need to send the message to those who think that we have at hand, that something have not understood well.  Stand strong."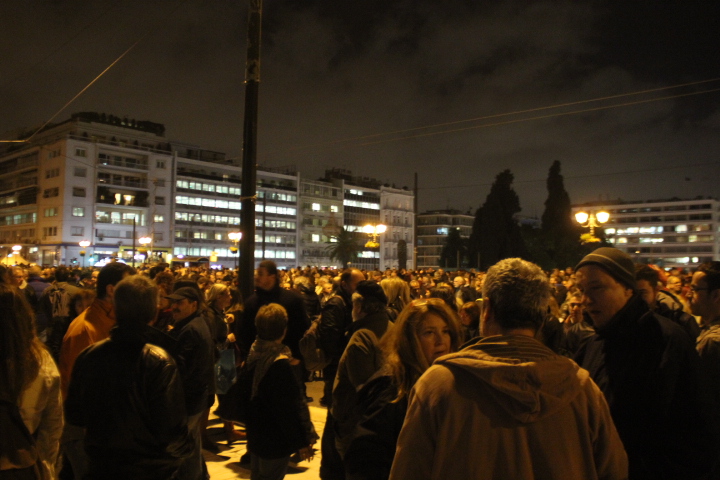 This was not only the first time people in Greece actually gathered together to show support, rather than objection to, their government, but also the first time in several years where people could actually walk on the Plaza where the guard traditionally stands, that has been for years off-limits to the public.
In a laissez-faire spirit, the police allowed journalist, photographers and the curious, to climb up the stairs to the area overlooking the square. Two policemen did not prevent people from going, though traditionally this has not been allowed.  Later on, they politely asked people to leave, but were not too strict in enforcing this. In fact, I managed to go up the stairs even while the police asked others to leave, and the policeman did not prevent me from doing so.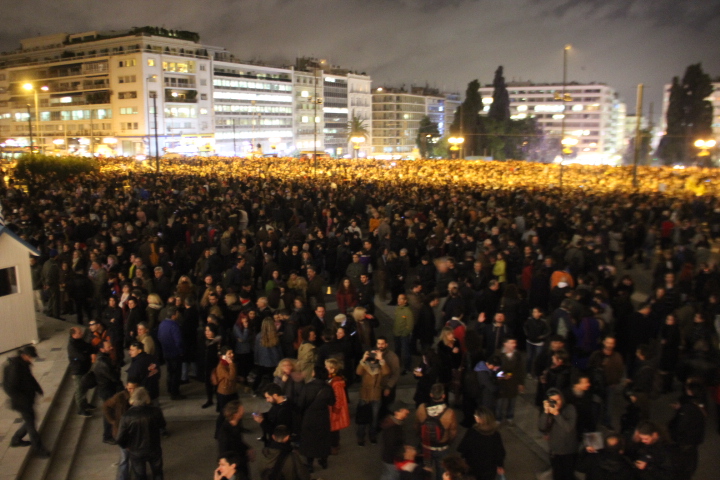 The feeling in the air was that of jubilation, and a sense that the current government actually speaks for the people. There were very few chants as there was no need to. The presence of people was enough and spoke volumes.
While many, though not all, of the participants were Syriza voters, to the best of my knowledge, Syriza did not mobilize unions behind the scene to attend.
The fact that people came to the Syntagma Square, indicates something. Greeks are naturally the rebellious types and do not come to the square just because someone in the government suggested it may be needed.  To move beyond one's lethargy and show support for the government 10 days after the election, reveals that the new government has managed to inspire the public.
In future steps, Tsipras and Varoufakis now know, that whatever difficult decision they may make, which include of course, leaving the Euro, the public will be behind them. This is true as long as they maintain the confidence of the public, which for now, they have.